PILATES ONLINE FREE TRIAL & MEMBERSHIP (£19.99)
Many people don't go to a fitness centre and there are reasons for that. Often it is not on the way, your commute takes so much time, membership is very expensive, it is raining, you need to pick up your children from school or you just don't like the atmosphere there. You have a lot on and there are always different priorities: work, family…not enough time, not convenient enough, too expensive… But we all want a beautiful, healthy body! What would you say if you could exercise from the comfort of your own home with a real instructor?
STEP 1:

BOOK THE CLASS
PILATES ONLINE

‐

 WHAT IS E-PILATES
We have launched live pilates online classes, which will run each Monday: e-Pilates 6:30PM (GMT +1) until further notice. Pilates online is suitable for all levels and it will take about 55 minutes. Pilates online is a group session and all participants can see and hear the instructor and the instructor can see and hear the participants. It is an interactive group pilates class run through web video conference software. It works similarly to Skype, very simply. You don't need to leave your house and you will be trained and motivated by a real instructor in real time. If you perform an exercise incorrectly, the instructor will be able to see and will correct you.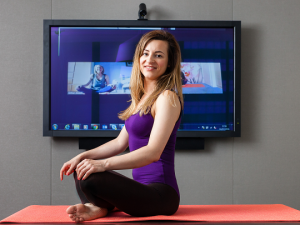 PILATES ONLINE

‐

 HOW DOES IT WORK?
All you need is your computer (or laptop), internet connection, web cam, speakers and microphone. Just register with our website, complete the short health form and book the class, it that simple! You will receive invite e-mail with the instructions to connect through Zoom. Each class is private and password protected. Your password will be sent to you by e-mail. Book the class in advance as availability is limited. The class must be booked at least one day before the class.
Check your systems requirements here.
Click here to check how to join e-class.
Click here to check how to change video and audio settings.
PILATES ONLINE
‐

 WHAT DO YOU NEED?

‐ Pilates or yoga mat, if you don't have a mat don't worry you can use a thick or folded blanket to protect your body.
‐ Comfortable sports clothing, e.g. leggings and a top.
‐ No trainers are needed, you can wear socks or even have bare feet.
‐ Some classes may required dumbbells but you can use small bottles of water or cans of beans.
‐ Make sure there is lots of light in your room so that the instructor can see you well!
PILATES ONLINE

‐

 WHO IS IT FOR?
Pilates online is for people who:
‐ have little time
‐ don't want to commute
‐ don't like busy gyms
‐ travel a lot
‐ work from home
‐ have caring responsibility
‐ are not able to leave home easily
You can exercise where it is convenient for you without expensive membership fees. Check benefits of pilates.