HEALTHY MEAL PLAN: FIBRE – HOW TO EAT LESS AND NOT FEEL HUNGRY?
Have you just eaten a meal and you already feel hungry? You think why do I feel hungry, I have just had a big meal? You don't want eat another meal, because you feel guilty, but you are again HUNGRY!
It's all about choices…food choices. Very often we eat, but we don't really know what we are eating. I will show you how to make better, healthy meal choices. This will help you lose weight by consuming less calories and still make you feel fuller for longer.
The secret food component is fibre!
1. What is fibre?
Fibre is an important component of a healthy and balanced diet. Most of the fibre comes from fruit, vegetables and cereals. There are two different types of fibre – soluble and insoluble. Each type has a different role in digestion.
Soluble fibre can be digested and it helps reduce cholesterol in your blood. The cholesterol is usually reabsorbed from bile and soluble fibre helps to prevent this reabsorption. This is an important factor in preventing heart disease and stroke. It will also help to digest food easier. Soluble fibre can be found in beans, peas, lentils, broccoli, cauliflower, carrots, potatoes, oats, apples, bananas.
Insoluble fibre can't be digested and it helps other foods to move through your digestive system easier and quicker. Insoluble fibre can be found in wholemeal breads and cereals, brown rice, nuts and seeds.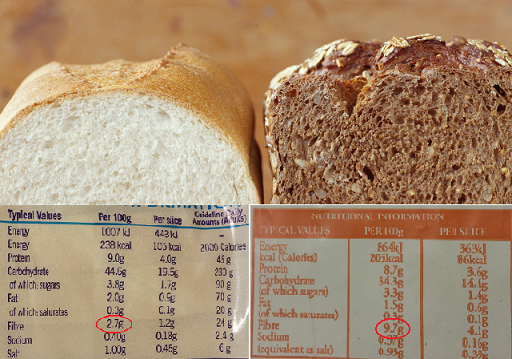 2. The importance of fibre
Fibre adds bulk to your diet and makes you feel full for longer. It also regulates your bowel movements and helps better digestion and this also can prevent bowel cancer. Foods high in fibre will reduce hunger and help you stop snacking between meals!
3. How to find high fibre products?
You can consider food products high-fibre, when they contain at least 6 grams fibre per 100 grams. You can find this information on food labels on each product at the back of the packaging (please see below).
You don't need to starve yourself, just make better food choices. To start with replace your white bread, pasta and rice with the brown equivalent today!
Healthy snacks coming soon!