THOMAS HAMILTON AND HIS BEST RUNNING TIPS FOR BEGINNERS
I'm sitting in Del Aziz, sipping a 'wake up' smoothie and waiting for Thomas Hamilton (26), Co-Founder of The Transformers, fitness and social club in London. He is talking to members of Neighbourhood Bootcamp which he runs every Saturday and Sunday in Clapham Common. After the bootcamp, which is free for everyone, all participants go for breakfast to Del Aziz. There are about 40-100 people of different ages, the atmosphere is relaxed and social. Del Aziz offers healthy Mediterranean cuisine but you can also have porridge, different sorts of eggs, smoothies, fresh juices etc. All foods are well prepared and are very tasty. After all members have finished the breakfast, he's free to tell me all about his running tips for beginners.
He has been running since he was a little boy. His father who was a 400m sprinter taught him all the techniques. This is how he got into running. However it wasn't easy at the beginning even for him. 'I remember I used to be one of the slowest in the class at school, simply because my technique and form weren't good. I was running like a duckling. My dad worked on me and from the slowest I got to be the fastest in the school and I started to compete'.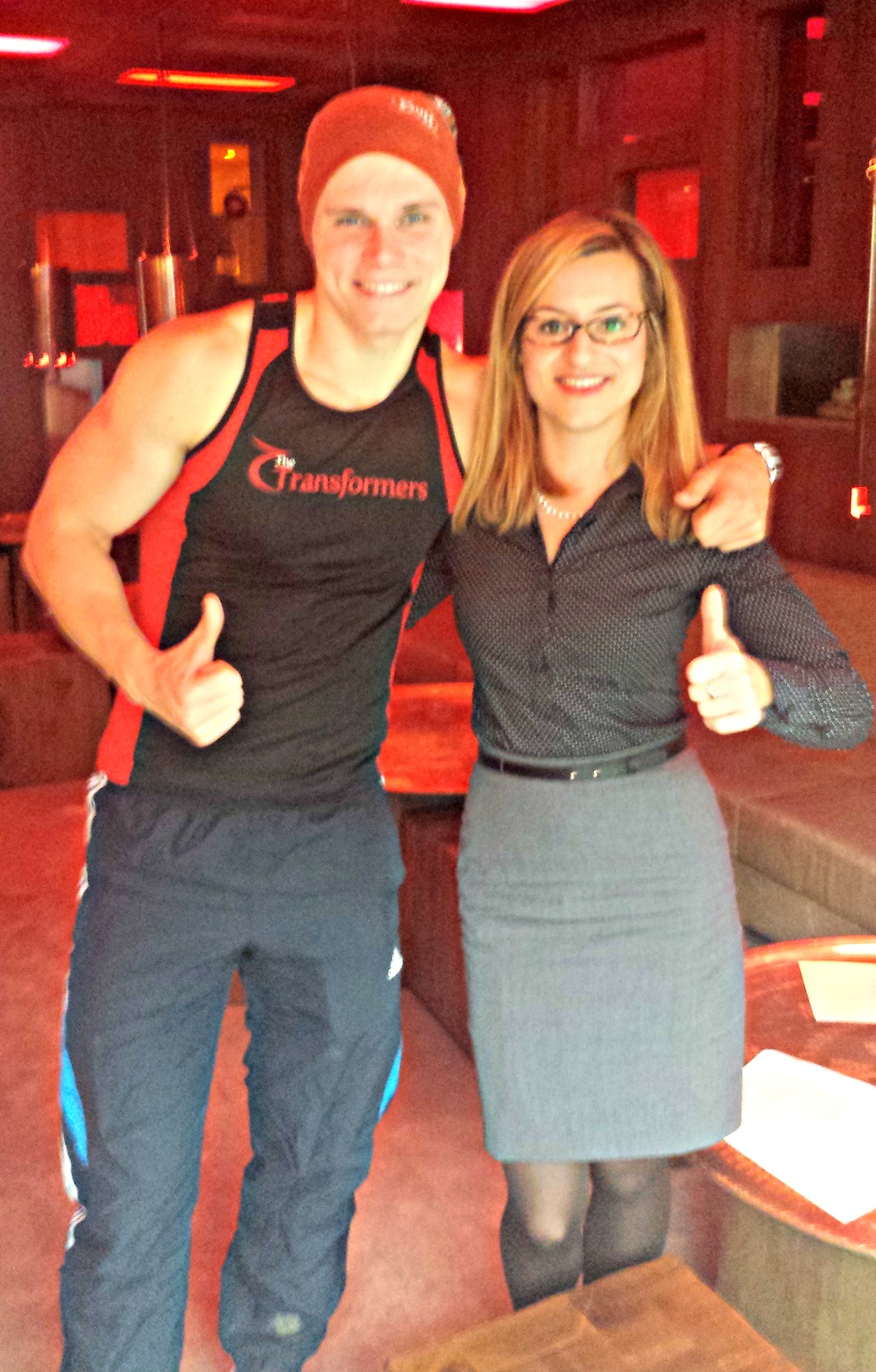 Running tips for beginners:
'If your heavy legs stop you from running then I would recommend doing intervals because you're pushing lactic acid to spike so you improve your lactic threshold. If your breathing stops you from running then do long distance.'
Coach Thomas has done many runs and half marathons, but when he speaks about running you can feel that running for him is more than a workout: 'Running is more like a therapy, I really enjoy it. When I run on my own I normally listen to music. I'm going into this mindset and I actually forget that I'm running like I'm in my little world when I'm just thinking and day dreaming about those things I want to do in my life and what I want to change. Before I know it I run 10 miles and I feel fantastic'.
Running tips for weightloss:
'Sprinting is very good, because you have an after burn effect, so you will lose body fat even after exercising. Any type of running will help you lose weight but sprinting is particularly helpful'.
He has this amazing passion inside him and the ability to pass it onto others. He never gives up and he won't let his Bootcamp members give up either! 'My mother and father always believed in me and always supported me. I think the passion comes from being open minded. If you're open minded then you believe that things are possible and if you believe that things are possible then you're passionate and enthusiastic. I always set goals for myself and I always work towards achieving them. When I achieve them I'm excited. I love training.'
Running tips for motivation:
'To keep motivated first of all you need to have a goal, without a goal you're not going to be motivated. As long as you progress you will be motivated. It's like a machine, the more you progress the more motivated you get'.
Running tips for beginners:

complete 5k then 10k or reduce time on the 5K.
Some people consider running tedious, but Coach Thomas says, 'Change your attitude, it will eventually become fun. Listening to music works for me very well, I like energizing music. Fast tempo. I also think about what to do next, the next goal etc'.
Diet tips for running:
For performance: If you want to become the best of the best then eat as many fresh fruits and vegetables as you can to lose weight and get hydrated.

Drink beetroot juice to improve stamina.
Coach Thomas loves running in London parks and he has had some interesting experiences during his running sessions. Once he met a professional boxer and on another occasion he met a marathon runner. 'If there is anyone running at a good pace I would start talking to the person because I would be interested to know what the person does. I have bumped into many interesting people that way and we had a lot in common'.
You need to feel comfortable, not too hot not too cold.
Wear a long sleeve dry top with mesh underneath, gloves and a hat.

You don't want to put too many clothes on because you may find running too tiring and it will take longer to cool down.

In winter you have to spend an extra 10 minutes on warming up.

To cool down perform easy exercises or slow running or walking for 5-10 minutes.

Finish off with static stretches.
When Thomas speaks about running you feel like you want to go for a run. He is very enthusiastic about it. Running is one of his favourite sports. 'One thing I love about running is the fact that no matter where you are, no matter how much money you have, you can just do it and nothing is stopping you. It's one sport that gives you absolute freedom. Anyone can do this… rich or poor…anyone'.